Hostales en Reggio Emilia - Hostales Baratos en Reggio Emilia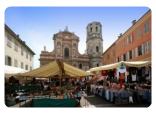 HOSTALES
REGGIO EMILIA
Sin gastos de reserva.
Clica el nombre del Hostal para reservar. En esta página puedes escoger y reservar tu
Hostal en Reggio Emilia
de un modo fácil y seguro. Aquí abajo tienes la lista completa de
Hostales en Reggio Emilia.
(3 Hostales)
Albergue

1

Hostel Italia

Via Bligny,26,Reggio Emilia

Desde € 15

mapa

Hostel Italia is a clean, comfortable and quiet hostel near the central train station and the bus station, just a 10-minute drive from the exhibition centre. The hostel...

Albergue

2

Student's Hostel della Ghiara

Via Guasco n.6,Reggio Emilia

Desde € 18

mapa

Lo Student's Hostel della Ghiara si trova nel cuore del centro storico di Reggio Emilia, nella struttura annessa alla magnifica Basilica della Ghiara, da cui prende il...

Budget Hotel

3

Hotel Ariosto

Via San Rocco, 12 (centro storico),Reggio Emilia

Desde € 20

mapa

Situato nel centro storico della città, l'Albergo Ariosto è a soli 200 metri dall'Università di Reggio Emilia e a 5 minuti dal famoso 'Loris Malaguzzi International...
Ostelli Reggio Emilia Ostelli Italia Auberges de Jeunesse Italie
Carte Reggio Emilia Karte von Reggio Emilia Mapa Reggio Emilia Map of Reggio Emilia
Carte Emilie Romagne Karte von Emilia Romagna Mapa Emilia Romaña Map of Emilia Romagna
Carte d'Italie Karte von Italien Mapa Italia Map of Italy Carte Italie Regions