Terni Auberges - Auberges de jeunesse Terni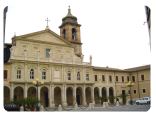 AUBERGES DE JEUNESSE TERNI Pas de frais de réservation. Les pages sont sécurisées par Verisign, le leader de la sécurité sur Internet. Les prix sont par personne et par nuit.
(1 Auberges de Jeunesse)
Auberges de Jeunesse

1

La Piccola Quercia

Loc. Colmartino, 36,Terni

De € 18

carte

The hostel Piccola Quercia (Little Oak) is in the green centre of Italy, in Umbria.More specifically it is located in Stroncone, one of the most suggestive villages of...
Ostelli Terni Ostelli Italia Auberges de Jeunesse Italie Hotel Terni
Carte de Terni Karte von Terni Mapa Terni Map of Terni
Carte de la Ombrie Karte von Umbrien Mapa Umbria Map of Umbria