Hostales en Livorno - Hostales Baratos en Livorno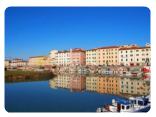 HOSTALES LIVORNO Pequeño anticipo (entrada) y los honorarios por la reserva son de 2 dólares americanos son requeridos para confirmar su reserva. Los precios son por persona por noche. Clica el nombre del Hostal para reservar. En esta página puedes escoger y reservar tu Hostal en Livorno de un modo fácil y seguro. Aquí abajo tienes la lista completa de Hostales en Livorno
(5 Hostales)
Camping

1

Villaggio Camping Miramare

Via del Littorale 220,Livorno

Desde € 22

mapa

Situato sulla costa toscana, il Villaggio Miramare offre moderni bungalow, Mobilhome e Piazzole situate sul mare.Ogni sistemazione è dotata di zona soggiorno, angolo...

Budget Hotel

2

Hotel Giappone Inn

Via Grande 65,Livorno

Desde € 23

80 %

mapa

Nice and warm hotel located in the in the heart of the city, near to the port and at one km away from the railway station. We offer singles, doubles, triples and...

Budget Hotel

3

Hotel Ariston Livorno

Piazza della Repubblica 11,Livorno

Desde € 29

75.5 %

mapa

Hotel Ariston is located in the main square of Livorno's town.Comfortable rooms all with, private bathroom, TV, air conditioning, double glasses windows.From our windows:...

Budget Hotel

4

Hotel la Vedetta di Montenero

Via della Lecceta 5,Livorno

Desde € 31

75.5 %

mapa

The hotel is in Montenero 6 km from Livorno.Hotel la Vedetta, situated on the hills of Livorno, faces one of the most suggestive landscape of the Etruscan Coast.Every...

Pensione B&B

5

La Casa di Ulisse B&B

Via Vitalba 3, Quercianella,Livorno

Desde € 36

75.5 %

mapa

La casa di Ulisse B&B è la soluzione ideale per chi apprezza la natura ed il comfort e per chi ricerca il relax. il mare all'orizzonte.La villa, costruita negli anni '60...
Ostelli Livorno Ostelli Italia Auberges de Jeunesse Italie Hotel Livorno
Carte Livourne Karte von Livorno Mapa Livorno Map of Livorno
Carte de Toscane Karte von Toskana Mapa Toscana Map of Tuscany