Hostels in Livorno - Youth hostels in Livorno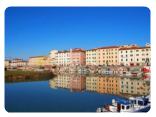 HOSTELS LIVORNO click on the name of the hostels to book (small deposit with Visa, Mastercard or Paypal, the remaining is due on arrival at the hostel). It takes only 2 minutes to book the hostel in Livorno of your choice at the best price. Prices are per person per night
(5 Hostels)
Campsite

1

Villaggio Camping Miramare

Via del Littorale 220,Livorno

From € 22

map

Located on the Tuscan coast, Villaggio Miramare offers modern bungalows, Mobil and pitches situated on the sea.Each room has a living area, kitchenette and private...

Budget Hotel

2

Hotel Giappone Inn

Via Grande 65,Livorno

From € 23

80 %

map

Nice and warm hotel located in the in the heart of the city, near to the port and at one km away from the railway station. We offer singles, doubles, triples and...

Budget Hotel

3

Hotel Ariston Livorno

Piazza della Repubblica 11,Livorno

From € 29

75.5 %

map

Hotel Ariston is located in the main square of Livorno's town.Comfortable rooms all with, private bathroom, TV, air conditioning, double glasses windows.From our windows:...

Budget Hotel

4

Hotel la Vedetta di Montenero

Via della Lecceta 5,Livorno

From € 31

75.5 %

map

The hotel is in Montenero 6 km from Livorno.Hotel la Vedetta, situated on the hills of Livorno, faces one of the most suggestive landscape of the Etruscan Coast.Every...

Guesthouse

5

La Casa di Ulisse B&B

Via Vitalba 3, Quercianella,Livorno

From € 36

75.5 %

map

La Casa di Ulisse B&B is the ideal solution for people loving nature and comfort. It�s perfect for people wishing relax seeing the sea and the stars with a glass of...
Ostelli Livorno Ostelli Italia Auberges de Jeunesse Italie Hotel Livorno
Carte Livourne Karte von Livorno Mapa Livorno Map of Livorno
Carte de Toscane Karte von Toskana Mapa Toscana Map of Tuscany