Unterkunft Olbia - Jugendherbergen in Olbia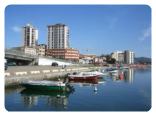 JUGENDHERBERGEN IN OLBIA Den Namen der Jugendherberge anklicken, um die Verfügbarkeit zu überpruefen und eventuell zu bestellen. Es wird nur 10% Anzahlung (absolute Zahlungssicherheit durch Kreditkarte von Visa oder Mastercard) bei der Bestellung bezahlt.
(11 Jugendherbergen)
Pensionen

1

B&B Giardinos

Via Giardinos 32,Olbia

ab € 17

stadtplan

Il Bed and Breakfast "GIARDINOS" sito in una villa tipica della Gallura costiera è immerso nella campagna olbiese (3 km dal centro della città) in posizione molto...

Pensionen

2

Affittacamere B&B Janas

Via Lamarmora 61,Olbia

ab € 20

stadtplan

Welcome to B&B Janas GuesthouseIt's situated in the historical Centre of Olbia and it's a nice and confortable place to stay .Our B&B was fully renovated in 2004. It is...

Hotel

3

Hotel Royal

Viale Aldo Moro 333,Olbia

ab € 23

72.33 %

stadtplan

Situato nel Viale più importante della città, l'Hotel Royal si contraddistingue per la tradizionale ospitalità sarda ed una raffinata eleganza,garantendo ai propri...

Pensionen

4

B&B Porto Romano

Via A. Nanni 2,Olbia

ab € 25

72.33 %

stadtplan

The B&B Porto Romano is a delightful detached house in the historical centre of Olbia. You can choose between a double/twin or a triple room. All rooms are spacious,...

Pensionen

5

Ciro's House

Via Aspromonte, 7,Olbia

ab € 25

72.33 %

stadtplan

Ad Olbia, 'capoluogo' della Gallura e delle vacanze a 900 metri dal centro storico, si trova la bella ed accogliente villa unifamiliare su tre livelli indipendenti dei...

Pensionen

6

B&B Asfodeli

Loc. Sanalvò-Vaccileddi,,Olbia

ab € 27

72.33 %

stadtplan

Asfodeli.com in Sardegna ideale per le tue vacanze.Il BeB Asfodeli.com è un abitazione storica in Sardegna, vicino Olbia in Gallura, ideale ritrovo per vacanze relax in...

Pensionen

7

Domus Olbia Inn

via Liguria 24,Olbia

ab € 28

72.33 %

stadtplan

Let's imagine sleeping in a 100-year old house with all modern comforts. Astonish going through the 'Orange wall entrance' into the peculiar inner court adorned with an...

Pensionen

Pensionen

9

La Casa delle Fate B&B

Via Acquedotto, 98,Olbia

ab € 30

85.17 %

stadtplan

Il nostro B&B si trova nel cuore di un bosco di querce secolari nella verde Gallura, regione della Sardegna nord orientale . Siamo convinti che il bosco sia popolato da...

Pensionen

10

Drummì e Smulzà

Via Santa mariedda, s.n.,Olbia

ab € 35

85.17 %

stadtplan

The B&B Drummì e smulzà is the ideal place for your holidays. The silence, the green of the olive trees, the light breeze that blows and the long walks you can do, make...

Pensionen

11

Agriturismo Terre di l'Alcu

loc Balaiana 164 a,Olbia

ab € 35

85.17 %

stadtplan

Farmhouse Terre Di L'Alcu will make you discover ancient flavours and experience a genuine and pristine corner of Gallura.The Farmhouse Terre Di L'Alcu, built with...
Ostelli Olbia Ostelli Italia Auberges de Jeunesse Italie Hotel Olbia
Carte Olbia Karte von Olbia Mapa Olbia Map of Olbia
Carte Sardaigne Karte von Sardinien Mapa Cerdeña Map of Sardinia