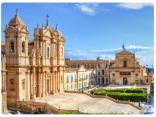 AUBERGES DE JEUNESSE NOTO Pas de frais de réservation. Les pages sont sécurisées par Verisign, le leader de la sécurité sur Internet. .
(6 Auberges de Jeunesse)
Auberges de Jeunesse

1

Ostello della Gioventu' Il Castello

Via Fratelli Bandiera, 1,Noto

De € 18

carte

Struttura situata nel cuore del centro storico di Noto. L'Ostello della Gioventù di Noto si trova in Via Fratelli Bandiera in un immobile storico (Castello Borbonico).La...

Chambres d'hôtes

2

Agriturismo Saccollino

Contrada Saccollino,Noto

De € 22

carte

Agriturismo Saccollino is located in the district Saccollino on the Provincial Road No. 51 Noto direction. Excellent starting point for tourists who love nature, hiking...

Appartment

3

Farm Holidays Don Ignazio

Contrada Carcicera,Noto

De € 25

carte

Cette ancienne ferme typique de la campagne sicilienne, entièrement reconstruit et rénové, où 6 ont été obtenus avec 4 studios et 2 studios à deux chambres.Tous...

Chambres d'hôtes

4

B&B Sikania

Via Montessori, 8,Noto

De € 32

carte

B&B Sikania is located in one of the most charming baroque cities in Sicily, Noto. It's situated in the upper part of the city, 10 minutes walking from the town center....

Chambres d'hôtes

5

Porta Reale Rooms

Corso Vittorio Emanuele 165,Noto

De € 33

carte

The elegant building is located in the heart of the Baroque city, specifically in Corso Vittorio Emanuele near the Porta Reale. The façade of the building is in tune...

Chambres d'hôtes

6

Il Giardino Del Barocco

Via G.Aurispa 77,Noto

De € 40

carte

The palace, in town centre, only 100 m far from main street, , and you can either easily walk till the Noto barocco monuments or rest in the peace of the garden.With a...
Ostelli a Noto Ostelli Italia Auberges de Jeunesse Italie Hotel a Noto
Carte Noto Karte von Noto Mapa Noto Map of Noto
Carte Sicile Karte von Sizilien Mapa Sicilia Map of Sicily