Hostels in Noto - Youth hostels in Noto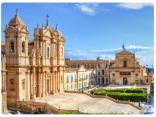 HOSTELS SIRACURA click on the name of the hostels to book (small deposit with Visa, Mastercard or Paypal, the remaining is due on arrival at the hostel). It takes only 2 minutes to book the hostel in Noto of your choice at the best price.
(6 Hostels)
Hostel

1

Ostello della Gioventu' Il Castello

Via Fratelli Bandiera, 1,Noto

From € 18

map

We are located in the heart of the city of Noto. The Youth Hostel Noto is located in Via Fratelli Bandiera in a historic building (Castle Bourbon).The hostel offers...

Guesthouse

2

Agriturismo Saccollino

Contrada Saccollino,Noto

From € 22

map

Agriturismo Saccollino is located in the district Saccollino on the Provincial Road No. 51 Noto direction. Excellent starting point for tourists who love nature, hiking...

Apartment

3

Farm Holidays Don Ignazio

Contrada Carcicera,Noto

From € 25

map

Farm 'Case don Ignazio' is a delightful rural receptive structure, risen by an ancient farmhouse totaly restructured.All the apartments are located on the ground floor...

Guesthouse

4

B&B Sikania

Via Montessori, 8,Noto

From € 32

map

B&B Sikania is located in one of the most charming baroque cities in Sicily, Noto. It's situated in the upper part of the city, 10 minutes walking from the town center....

Guesthouse

5

Porta Reale Rooms

Corso Vittorio Emanuele 165,Noto

From € 33

map

The elegant building is located in the heart of the Baroque city, specifically in Corso Vittorio Emanuele near the Porta Reale. The façade of the building is in tune...

Guesthouse

6

Il Giardino Del Barocco

Via G.Aurispa 77,Noto

From € 40

map

The palace, in town centre, only 100 m far from main street, , and you can either easily walk till the Noto barocco monuments or rest in the peace of the garden.With a...
Ostelli a Noto Ostelli Italia Auberges de Jeunesse Italie Hotel a Noto
Carte Noto Karte von Noto Mapa Noto Map of Noto
Carte Sicile Karte von Sizilien Mapa Sicilia Map of Sicily