Hostels in Messina - Youth hostels in Messina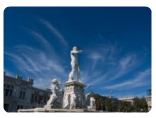 HOSTELS MESSINA click on the name of the hostels to book (small deposit with Visa, Mastercard or Paypal, the remaining is due on arrival at the hostel). It takes only 2 minutes to book the hostel in Messina of your choice at the best price.
(3 Hostels)
Apartment

1

Acqualadroni Affitti

Via Lavinia 100,Messina

From € 15

map

Rent of One / Two / Three bedrooms apartments with private off street parking very close to the sea for summer holidays or weekend to the sea. All apartements have...

Guesthouse

2

Siciliabedda B&B

Via Francesco Crispi 227,Messina

From € 25

map

On the coast of the Ionian coast, overlooking the valley of Sant'Alessio and Agro and a few kilometers from Taormina it is located our Siciliabedda B&B. The building is...

Guesthouse

3

Al Palmento B&B

Vico Abate Crimi 6,Messina

From € 27

map

All rooms are nicely furnished. Formula: bed and breakfast.The Palmento also offers a convention with one of the most famous restaurants and characteristic of the...
Ostelli Messina Ostelli Italia Auberges de Jeunesse Italie Hotel Messina
Carte Messine Karte von Messina Mapa Messina Map of Messina
Carte Sicile Karte von Sizilien Mapa Sicilia Map of Sicily