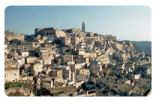 AUBERGES DE JEUNESSE MATERA Pas de frais de réservation. Les pages sont sécurisées par Verisign, le leader de la sécurité sur Internet. Les prix sont par personne et par nuit.
(4 Auberges de Jeunesse)
Chambres d'hôtes

1

Best Value

Via Fratelli Grimm 5,Matera

De € 22

78 %

carte

We offer nice double/triple rooms in a big apartment in Matera, 300 mt from Sassi di Matera.Located only 300 mt from the railway station, we offer free pick up service...

Appartment

2

Casa Matera Sassi

Via Santa Cesarea 9,Matera

De € 25

78 %

carte

Casa Matera Sassi has a little apartment made of tufa, the tipical stone of Sassi righ at on the border of sassi old town in matera. It has an independent cooking corner...

Chambres d'hôtes

3

B&B Matera City

Via Giolitti 25,Matera

De € 25

78 %

carte

This b&b is a typical apartment in the centre of Matera. The B&B is composed of a bedroom with bathroom and a kitchenette.B&B Matera City is provided with all comforts:...

Chambres d'hôtes

4

Bagni di Sole B&B

Via Annibale M. di Francia sn,Matera

De € 26

78 %

carte

In a peaceful area very close to the center of Matera, you will find our guesthouse. A large villa in a great mediterranean garden, composed of three bright rooms and...
OSTELLI Italia Auberges de Jeunesse Italie Hotel Matera
Carte Matera Karte von Matera Mapa Matera Map of Matera
Carte Basilicate Karte von Basilicata Mapa Lucania Map of Basilicata