Weimar Auberges - Auberges de jeunesse Weimar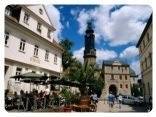 AUBERGES DE JEUNESSE WEIMAR Pas de frais de réservation. Les pages sont sécurisées par Verisign, le leader de la sécurité sur Internet. Les prix sont par personne et par nuit.
(3 Auberges de Jeunesse)
Auberges de Jeunesse

1

Labyrinth Hostel Weimar

Goetheplatz 6,Weimar

De € 15

carte

Do you know Cesky Krumlov in Czech Republic or Brugge in Belgium? Weimar is just like that. Its a labyrinth of narrow roads, World Cultural Heritage and a perfect place...

Auberges de Jeunesse

2

Hababusch Hostel

Geleitstraße 4,Weimar

De € 21

77.83 %

carte

Run by students, Hababusch Hostel is student shared living and a guesthouse. The house is 200 years old and has not been modernised. Weimar is a very small, yet very...

Budget Hôtel

3

Hotel Ilmtal

Hirtentorstrabe 1,Weimar

De € 35

90 %

carte

Hotel Ilmtal is located in a quiet rural location in green surroundings, on the outskirts of Weimar, 6 km from the town centre.A well connected road network (including...
Ostelli Weimar Ostelli Germania Hotel Weimar
Carte d'Allemagne Karte von Deutschland Mapa Alemania Map of Germany