Hostales Weimar- Alojamientos en Weimar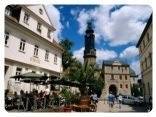 HOSTALES WEIMAR Sin gastos de reserva. Los precios son por persona por noche. Clica el nombre del Hostal para reservar. En esta página puedes escoger y reservar tu Hostal en Weimarde un modo fácil y seguro. Aquí abajo tienes la lista completa de Hostales en Weimar
(3 Hostales)
Albergue

1

Labyrinth Hostel Weimar

Goetheplatz 6,Weimar

Desde € 15

mapa

Do you know Cesky Krumlov in Czech Republic or Brugge in Belgium? Weimar is just like that. Its a labyrinth of narrow roads, World Cultural Heritage and a perfect place...

Albergue

2

Hababusch Hostel

Geleitstraße 4,Weimar

Desde € 21

77.83 %

mapa

Run by students, Hababusch Hostel is student shared living and a guesthouse. The house is 200 years old and has not been modernised. Weimar is a very small, yet very...

Budget Hotel

3

Hotel Ilmtal

Hirtentorstrabe 1,Weimar

Desde € 35

90 %

mapa

Hotel Ilmtal is located in a quiet rural location in green surroundings, on the outskirts of Weimar, 6 km from the town centre.A well connected road network (including...
Ostelli Weimar Ostelli Germania Hotel Weimar
Carte d'Allemagne Karte von Deutschland Mapa Alemania Map of Germany