Hostels Chieti - Youth Hostels in Chieti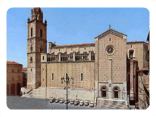 HOSTELS CHIETI click on the name of the hostels to book (small deposit with Visa, Mastercard or Paypal, the remaining is due on arrival at the hostel). It takes only 2 minutes to book the hostel in Chieti of your choice at the best price.
(2 Hostels)
Campsite

1

Kokopelli Camping

Contrada Garifoli,Chieti

From € 16

map

Kokopelli Camping is all about simple pleasures, minimal impact and staying close to nature. Our site is also our home and therefore very special to us.The land is flat...

Guesthouse

2

Agriturismo Montupoli

Via Montupoli 99 Miglianico,Chieti

From € 23

map

Our B&B is located among the green Teatine hills, between our vineyards and olive groves, just 7 km from the sea and 14 km away from Chieti and the main skiing locality...
Ostelli Italia Auberges de Jeunesse Italie
Carte Chieti Karte von Chieti Mapa Chieti Map of Chieti
Carte Abruzzes Karte von Abruzzen Mapa Abruzos Map of Abruzzi
Carte d'Italie Karte von Italien Mapa Italia Map of Italy イタリア の地図