Hanovre Auberges - Auberges de jeunesse Hanovre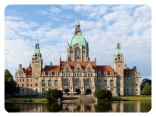 AUBERGES DE JEUNESSE HANOVRE Pas de frais de réservation. Les pages sont sécurisées par Verisign, le leader de la sécurité sur Internet. Les prix sont par personne et par nuit.
(8 Auberges de Jeunesse)
Auberges de Jeunesse

1

Hostel Hannover

Lenaustr.12,Hannover

De € 15

71.5 %

carte

Un endroit agréable et silencieux sur une arrière-cour au coeur deHanovre, basse-saxe. La pension est un bâtiment en briques du 19ème siècle. Les salles sont propres...

Budget Hôtel

2

Hotel Marjani Hannover

Im Büntefeld 5,Hannover

De € 17

83 %

carte

This cosy 3-star hotel enjoys an easily accessible location on route B217 in Wennigsen-Holtensen, and lies just a 10-minute drive from Hanover.The Hotel Marjani offers...

Auberges de Jeunesse

3

Bed´nBudget Hostel Hannover

Hildesheimer Straße 380,Hannover

De € 17

83 %

carte

Bed'nBudget Hostel Hanovre - ton Hostel très favorable à Hanovre

Auberges de Jeunesse

4

Bed'nBudget Cityhostel

Osterstrasse 37,Hannover

De € 19

83 %

carte

With Bed'nBudget Cityhostel you will find a reasonable, clean and uncomplicated accommodation.We are proud to say that you will not find any unnecessary gimmicks in our...

Budget Hôtel

5

Haus Sparkuhl Hotel Garni

Hischestraße 4,Hannover

De € 24

85.17 %

carte

The friendly family Hotel close to the city center.We are pleased to offer you a comfortable stay in the middle of Hannover. In the immediate vicinity you can take local...

Budget Hôtel

6

Hotel Flora Hannover

Heinrichstr.36,Hannover

De € 25

79.67 %

carte

Hotel Flora Garni is a small hotel ideally located close to the forest in a quiet and peaceful area of Hannover. The hotel is just 10minutes walking distance from the...

Chambres d'hôtes

7

Krügers Guesthouse

Bantorfer Brink 61,Hannover

De € 32

79.67 %

carte

Eat, drink, celebrate and stay overnight in the delightful surroundings of the hiking paradise in the Deister Natural Park.Excellent transportation connections make the...

Appartment

8

Gästeresidenz PelikanViertel

Pelikanstrasse 11,Hannover

De € 52

79.67 %

carte

We have apartments to suit all tastes and budgets, practically across the street from Europe's biggest urban park, the Eilenriede.Our apartments vary in floor space and...
Ostelli Hannover Ostelli Germania
Carte d'Allemagne Karte von Deutschland Mapa Alemania Map of Germany
Carte de Hanovre Karte von Hanover Mapa Hanover Map of Hanover Mapa Hanower