Alojamientos en Ajaccio - Albergues en Ajaccio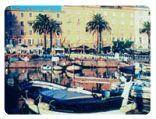 HOSTALES AJACCIO Sin gastos de reserva. Los precios son por persona por noche. Clica el nombre del Hostal para reservar. En esta página puedes escoger y reservar tu Hostal en Ajaccio de un modo fácil y seguro. Aquí abajo tienes la lista completa de Hostales en Ajaccio.
(3 Hostales)
Pensione B&B

1

Chez Mc Donald

Poggio 20173 Zevaco,Ajaccio

Desde € 20

mapa

BIENVENIDA EN CÓRCEGApequeño pueblo de montaña a 30 minutos del mar y ajaccio.

Budget Hotel

2

Hotel Marina Di Lava Corsica

Golfe de Lava,Ajaccio

Desde € 27

mapa

Marina Di Lava is located right on the beachfront in a relaxing setting, surrounded by nature. It offers free Wi-Fi access in all guest rooms and free parking.Rooms have...

Budget Hotel

3

Hotel Celine

Portigliolo,Ajaccio

Desde € 60

mapa

Hotel Céline is a family-owned establishment located in exceptional surroundings. It overlooks Portigliolo bay and boasts splendid views across the whole gulf of...
Ostelli Ajaccio Ostelli Francia
Carte de France Karte von Frankreich Mapa Francia Map of France