Hostels in Ajaccio - Youth hostels in Ajaccio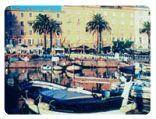 HOSTELS AJACCIO click on the name of the hostels to book (small deposit with Visa, Mastercard or Paypal, the remaining is due on arrival at the hostel). It takes only 2 minutes to book the hostel in Ajaccio of your choice at the best price. Prices are per person per night
(3 Hostels)
Guesthouse

1

Chez Mc Donald

Poggio 20173 Zevaco,Ajaccio

From € 20

map

Chez McDonald is located in the picturesque village of Z�vaco, typical of the Corsican mountains. We�re just 30 minutes� drive from the beach and Ajaccio,...

Budget Hotel

2

Hotel Marina Di Lava Corsica

Golfe de Lava,Ajaccio

From € 27

map

Marina Di Lava is located right on the beachfront in a relaxing setting, surrounded by nature. It offers free Wi-Fi access in all guest rooms and free parking.Rooms have...

Budget Hotel

3

Hotel Celine

Portigliolo,Ajaccio

From € 60

map

Hotel Céline is a family-owned establishment located in exceptional surroundings. It overlooks Portigliolo bay and boasts splendid views across the whole gulf of...
Ostelli Ajaccio Ostelli Francia
Carte de France Karte von Frankreich Mapa Francia Map of France