Hostales Parma - Hostales Baratos en Parma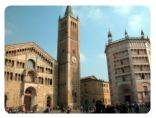 HOSTALES PARMA Sin gastos de reserva. Los precios son por persona por noche. Clica el nombre del Hostal para reservar. En esta página puedes escoger y reservar tu Hostal en Parma de un modo fácil y seguro. Aquí abajo tienes la lista completa de Hostales en Parma
(4 Hostales)
Apartamento

1

European Rooms

via Trento 44,Parma

Desde € 19

mapa

This is a very family-home, comfortable and with lots of colors. At home you have the strictest confidence and you can do whatever you want as if you were at home. It is...

Albergue

2

Ostello della Gioventù di Parma

Via San Leonardo 86,Parma

Desde € 20

mapa

It is upon the culture of welcome and the quality of given services that the hospitality of the new Youth Hostel in Parma, run by Auroradomus Parma - A.I.G. (Italian...

Pensione B&B

3

Dalla Nonna Maria

Strada Valle, 13,Parma

Desde € 28

92.83 %

mapa

Il nostro B&B si trova a San Secondo Parmense, a 23 km dall'aeroporto e a 25 da Parma.Quello che vi proponiamo non è un semplice servizio di pernottamento e prima...

Pensione B&B

4

B&B Podere San Vitale

Roncole Verdi, Strada Bassa de Maj, 271 - 43010,Parma

Desde € 35

92.83 %

mapa

Built in the end of the 19th century as a Farm house and now restored, Podere San Vitale is located in Busseto 25 Km far away from Parma, in the middle of Parma's Land....
Ostelli Parma Ostelli Italia Auberges de Jeunesse Italie Hotel Parma
Carte Parme Karte von Parma Mapa Parma Map of Parma
Carte Emilie Romagne Karte von Emilia Romagna Mapa Emilia Romaña Map of Emilia Romagna