Barcelona's famous personalities




The history book of Barcelona includes a long list of famous personalities, men and women who linked for ever their name to the capital of Catalonia: Picasso, Dalì, Mirò, Carreras, Montaner, Gamper, Montserrat Caballé, Pedrosa, Valdéz, Hernandez, Rivel, Bacardi and, last but not least, Gaudì, just to name a few of the ones we'd like to remember about.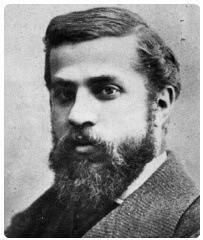 Antoni Gaudì was a famous Catalan architect, the main exponent of Spanish modernism, although he's gone beyond the artistic canons of his time. Undoubtedly, nowadays he's the most famous personality of Spanish architecture, the one who contributed more than anyone else to create Barcelona. Born in 1852 in a small village called Reus in the province of Tarragona, he graduated in 1877 at Barcelona's Escola Técnica Superior d'Arquitectura. Since then, the city became the center of his artistic activities and his life.
Since he was a kid, he was fascinated by nature, which he incorporated in many elements included in his drawings and he developed a unique style. This led him to create, by collaborating with some of the top craftsmen of his times, the elements that form his architectural portfolio – by working wrought iron, furnitures, glass windows, sculptures, mosaics, tiles and so on – for a concept of decoration which integrated these elements in the architectural construction process. The sea landscape was one of his favourite inspirations. The artist became popular thanks to the endorsement of the rich Count Eusebi de Güell, remembered in the famous Parc Güell (one of the most famous and audacious of Gaudì's projects)
The most significant works are Casa Milà (La Pedrera), Casa Batlló and the Crypt of Güell Colony's Church. His massive masterpiece, left unfinished after he dedicated 40 years of his activity to it, is the famous Sagrada Familia, Barcelona's most important Catholic Church, together with the cathedral.
On June 7th 1926 Gaudí got accidentally run over by a tram. He wasn't recognized and exchanged for a poor beggar, so he was sheltered in a hospice for beggars. He was recognized only after 2 days, the day before his death, which happened June 10th. Since then, his body rests in his Sagrada Familia.
During his times, Gaudì was admired and criticized for the audacity an the peculiarity of his innovative art. World wide fame is now undisputed, both among experts and public in general. Seven of his masterpieces of architecture are included in Unesco World Heritage.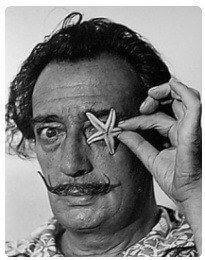 Salvador Dalì is considered the most important surrealist and one of the most famous artists in the 20th century. His father was a prestigious notary; Dalì was born in 1904 in the small Catalan town of Figueras, in Northern Spain. His early artistic talent was already recognized during the drawing lessons he took as a kid. One of his teachers was a famous Spanish impressionist, Ramon Pichot, who taught at the public drawing school. Dali's art varies among paintings, sculptures, drawings for books, jewels' design and even theatre and cinema (he collaborated with Luis Bunuel and also with Alfred Hitchcock's dream sequence in the film 'I will save you', 1945). He also wrote a pretentious autobiography, 'Salvador Dalì's secret life" (1942) and a novel in 1944.
Dalì had a talent for self presenting and exhibitionism, grown until reaching eccentricity. One of his most famous acts was showing up in a diving suit for the grand opening of the surrealist art exhibition in London in 1936; he stated that this kind of behaviours was the source of his creative energy. He adopted the surrealist theory of automatism, although transformed in a more positive method which he defined critical paranoia.
His iconic works include The enigma of desire (1929), The great masturbator (1929), The persistence of memory (1931), The birth of liquid desires (1931-32), Soft construction with boiled beans (1936), Narciso's Metamorphosys (1937), Sleep (1937), giraffe in flames (1937), Apparition of face and fruit dish on the beach (1938).
Montserrat Caballé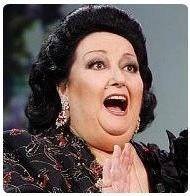 Maria de Montserrat Viviana Concepcin Caballe i Folc, better known as Montserrat Caballé (born April 12th 1933), is a famous Spanish lyric singer (soprano), renowned for her technique of " bel canto" and her interpretations in operas by Rossini, Bellini and Donizetti.
Montserrat Caballé was born during the Spanish civil war in the city of Barcelona, growing in a family which had a passion for classical music. The girl wanted to study music, but her parents couldn't afford to send her to school, so they made a deal with the rich Bertrand family in Barcelona, who contributed to financing her studies. In exchange for this, the girl accepted to appear in the Opera Theatre of Barcelona each concerts season. So, she joined the Lyceum Conservatory at the age of 13, although the mother had to register her as a 15 years old girl.
After studying music and singing technique, with Eugenia Kemmeny as a teacher, Montserrat joined the Opera of Basel in 1956, where she debuted in 1957. The following season she joined the Opera of Bremen, where she developed the basis of her wide repertoire. Between 1950 and 1960, Montserrat Caballé had already played more than 40 roles. She debuted at Alla Scala Theatre of Milan in 1960 in the opera Parsifal by Wagner. The following year she went back to Spain, debuting at the Liceu. During her comeback home, she met her future husband Bernabe Marti.
In 1965, Montserrat Caballé kept gaining international fame. In April 1965, she went to the United States and received great praise and recognition. The same year she debuted at the Metropolitan Opera of New York, playing the role of Marguerite in Gounod's Faust.
In 1992, Hollywood Records released " Barcelona", a duet album with the soprano and Queen's singer Freddie Mercury. Recorded in 1987, the album was published only after Mercury's death. The single became the opening hymn of Barcelona's Olympic games in 1992.
Despite her fame and her great career, Caballè never forgot her humble origins. Her and her husband created a charity foundation by taking in custody 500-600 orphans in a village at the foot of the Pyrenees, among many other charity actions they did. By living a life with grace and dedication to her art, Montserrat Caballé revealed herself as one of the greatest sopranos of the 20th century.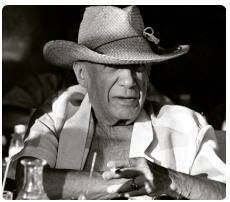 Pablo Picasso
Among the most famous personalities of Barcelona, Pablo Picasso (October 25th 1881 – April 8th 1973) is one of the greatest Spanish painters and is famous world wide. The artist was born in Malaga but he spent his childhood and his first manhood in Barcelona, where he formed his art. Picasso is considered as the most interesting and well known artist of the 20th century; his works are mainly abstract faces, figures and landscapes. Besides being a painter, he also explored sculpture, ceramic and incision and he created 20.000 works overall in a wide variety of styles. No painter before him had such a passionate public. Great painters such as Tiziano in the 16th century or Velazquez in the 17th probably gathered a few thousands people, mostly nobles and intellectuals who belonged to the European courts. Picasso's public counted maybe hundreds of thousands of people: maybe he was the first artist of all who received a huge attention by the mass media.
Picasso's artistic production was enormous and left permanent signs on every artistic and social discipline: they say that if he died before 1906, his sign in the art of the 20th century would have been lighter.
Female nudity is the obsessive subject always chosen by the artist. Everything in his painting universe seems connected to women's naked body. He painted in a sort of metamorphosys, recomposing the female body: " moving", as Picasso described this process, " putting the eyes between the legs, or sexual organs on the face. Contradict. Nature does many things, like I do, be she hides them!".
Undoubtedly, Picasso's greatest works arrived in a 30 years period between " Les Demoiselles d'Avignon"(1907) and " Guernica" (1937). Also in the years of the war, the 50s, 60s and 70s, the artist produced very powerful prints and paintings. In his late years, his production has a manic and obsessive quality, as the creative act (even if repetitive) could prevent death. His death, happened in 1973, left the public with the nostalgia for a genius that no talent in painter today is able to satisfy.
Hostels Barcelona Hostels Spain Hotels in Barcelona
Carte d'Espagne Karte von Spanien Mapa de España Map of Spain
Carte de Barcelone Karte von Barcelona Mapa Barcelona Map of Barcelona